Buy Proxy of Spain
Proxy for Traffic arbitrage, SMM, SEO and PPC activities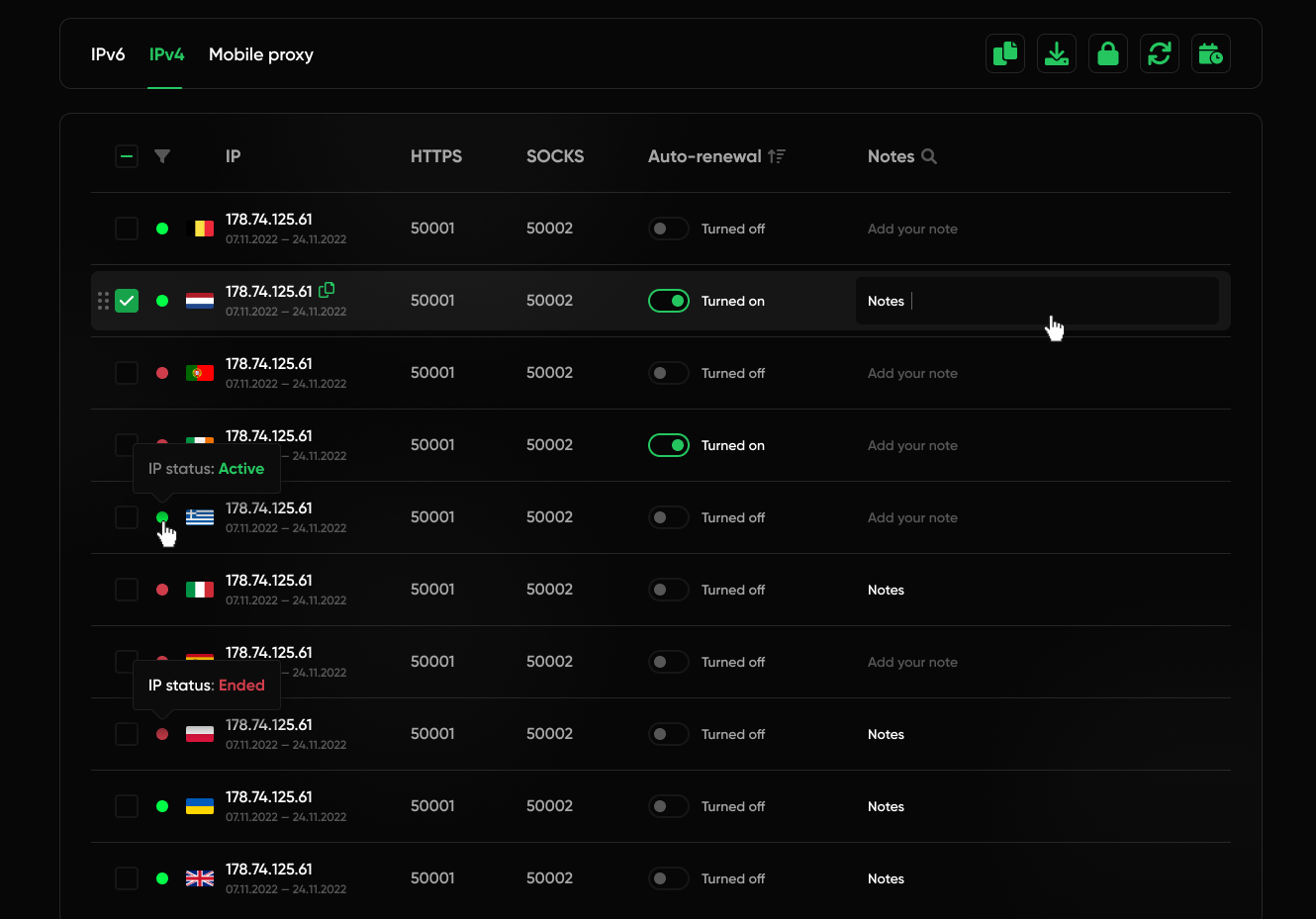 Simplified proxy management
Automation via client API
Balance and financial records
Export in various convenient formats
Commenting and categorizing proxies using folders
We answer your questions
Check out the list of frequently asked questions, you may find yours.
Ask your question
How quickly is a proxy issued?

A proxy can typically be selected and connected within a minute. However, if we need to verify that the use case doesn't violate our terms of service, the process may take longer.

Is the proxy provided exclusively for my use?

Yes, we provide proxies for individual use only.

Can I purchase a proxy of a specific city?

Before purchasing, please consult with our support team regarding the availability of the specific city you want. If the city is available, we'll take your request into account, and the order will be processed manually.

Can I receive proxies from different subnets?

Yes, one of our service's benefits is the automatic issuance of proxies with the maximum possible spread across various networks/subnets.
Cheap proxies of Spain for work
Proxies of the Spain we provide are an opportunity to choose the most secure personal IPs that guarantee high speed, uninterrupted operation, and absolute anonymity on the network. They are actively used for effective scraping and surfing, promotion of accounts on social media, the business activity of online stores, platforms, and marketplaces, and gaining access to popular online games. Effectively work with various sites. Issued for personal use only.
An important criterion for working with us is the following condition: the use of a Spain proxy for spam, phishing, and brute force is a serious violation of our terms, which entails appropriate consequences. All of the above rules are indisputable and are provided to maintain the "purity" of the proxy of Spain, on which the efficiency of the IP and the authority of our service depend. If terms of use of the proxy are violated, you may expect an unconditional block without the possibility of a refund.
Features of our Spain proxies
Spain proxies offered by our service have a wide range of characteristics that are important for the effectiveness of any kind of activity on the Internet:
All proxies of Spain provided by us are issued only individually. Guaranteed absence of any related users on your IP during the rental period, which guarantees full confidence in anonymity.
The issued IP address supports both versions of the protocol and allows you to work in any browser, or proxy client, with all services and programs, thus expanding the possibilities for developing your kind of activity.
Perfectly balanced loads on equipment to minimize failures and the causes that provoke their occurrence.
Since the Spain proxies we provide guarantee the absence of "neighbors" on an individual IP, this allows you to get a minimum ping in those areas where this condition is the main factor in material success, in various kinds of online games.
The maximum speed allocated for equipment in Spain, taking into account all location features.
The offered equipment is always under the careful control of specialists, which guarantees a quick solution to any problem.
We issue proxies of Spain randomly across networks and subnets to ensure that your protection from administrative prohibitions of a certain region is as effective as possible, this will make it possible to actively promote accounts on social media, and place surebets on gambling websites.
To make your anonymous stay on the network productive, we have removed any restrictions on the speed and number of threads from the proxy, and we do not charge an additional fee for this service.
Favorable and comfortable authorization.
Possibility to choose one of 2 available authorization methods (username + password; by IP). During the entire rental period, the method you originally selected can be changed.
Terms and benefits of buying a Spain proxy on Proxy-IPv4
Full automation: issuance of proxies with connection in automatic mode, displaying in a personal account within a few minutes after selection and payment.
Quantity to purchase: we do not set any restrictions in this matter, IP can be purchased from 1 pcs.
Minimum rental period: providing the opportunity to test the service within 3 days.
Around-the-clock technical support: our specialists provide support on all issues 24/7/365 without days off and holidays via access to your PC through the TeamViewer program.
Refund within 24 hours: you can request compensation for any reason, but only within a day from the date of purchase, by submitting a corresponding application to support.
Discounts: automatic discounts are provided for the number of addresses and extended rental period with savings of up to 40%.
Methods of payment for the service. Payment systems are used, which are the most popular around the world: PayPal, Visa/MasterCard, WebMoney, AliPay, and Qiwi Wallet. If there is no method suitable for you among these, you can request information about another, convenient payment solution from our consultants.