Buy Proxy of Czech Republic
Proxy for Traffic arbitrage, SMM, SEO and PPC activities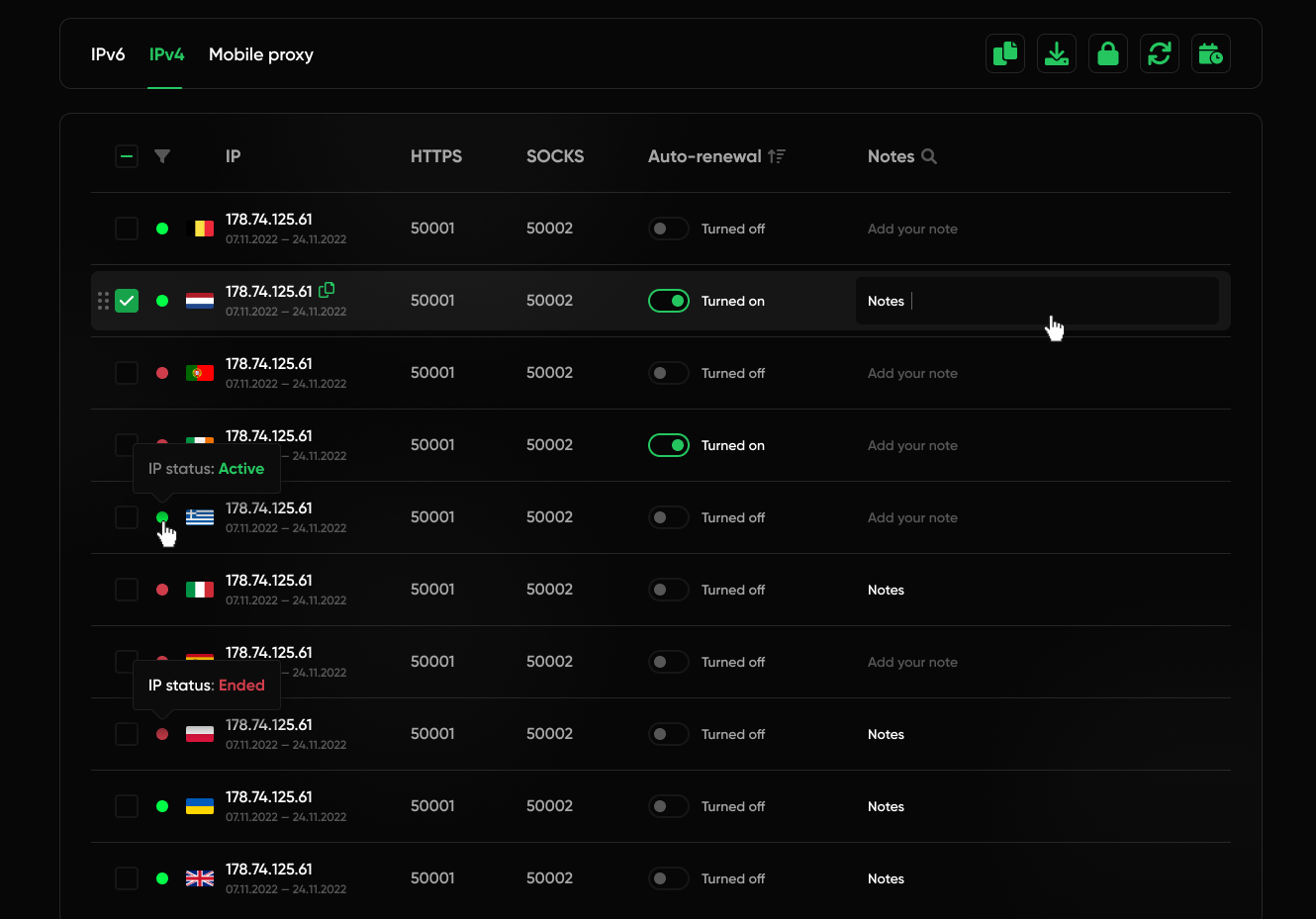 Simplified proxy management
Automation via client API
Balance and financial records
Export in various convenient formats
Commenting and categorizing proxies using folders
We answer your questions
Check out the list of frequently asked questions, you may find yours.
Ask your question
How quickly is a proxy issued?

A proxy can typically be selected and connected within a minute. However, if we need to verify that the use case doesn't violate our terms of service, the process may take longer.

Is the proxy provided exclusively for my use?

Yes, we provide proxies for individual use only.

Can I purchase a proxy of a specific city?

Before purchasing, please consult with our support team regarding the availability of the specific city you want. If the city is available, we'll take your request into account, and the order will be processed manually.

Can I receive proxies from different subnets?

Yes, one of our service's benefits is the automatic issuance of proxies with the maximum possible spread across various networks/subnets.
Cheap proxies of Czech Republic for work
Proxy of the Czech Republic provided by Proxy-IPv4 services is a great opportunity to purchase personal IP with a guarantee of uninterrupted operation, high-speed and maximum levels of anonymity and security while working on the network.
They are actively used to effectively bypass regional restrictions, access blocked sites, multi-accounting in social networks, marketplaces, streaming platforms, online games, data scraping, and much more.
Issued only for individual use.
One of the important criteria for cooperation with us is the "clean" use of Czech proxies. Brute, spam, phishing, and similar activity will be considered a violation of the rules and may lead to an unconditional blocking of the proxy, without the possibility of returning your funds. We need to keep IP addresses in the "white" lists, maintaining our authority.
Features of our Czech proxies
Private proxies of the Czech Republic provided by the Proxy-IPv4 service are distinguished by a wide range of positive characteristics that play an important role in comfortable and efficient Internet browsing:
Issued exclusively to one user. We guarantee first and personal use without any other users for the duration of the rental.
HTTP/HTTPS & SOCKS5 Simultaneous support for multiple connection protocols allows them to be used in all browsers, proxifiers, and proxy-supporting software, maximizing network access and automation.
Minimum ping. Individual use, high-speed communication channels, and many own networks and subnets provide a stable connection with minimal ping, which is very important if you are a fan of dynamic online games and actively use cop bots or surebet scanners for gambling.
Speed ​​up to 1 Gbps. All proxies of the Czech Republic are provided with high-speed communication channels that give the maximum result, taking into account GEO features.
UpTime 99%. Teams of highly qualified system administrators carefully monitor the operation of all equipment in modern data centers, eliminating any potential failures and threats to the operation of IP addresses.
IP with maximum spread. The presence of a large number of networks and subnets not only affects the speed and stability of work but also allows us to issue an IP with a maximum spread throughout nets and subnets, minimizing the risks of mass blocking by providers or on a regional basis.
Unlimited. For maximum productivity, there are no restrictions on the bandwidth, the number of threads, and connection speed on all provided Czech proxies.
Automation via API. Now it has become even easier to integrate Czech personal proxies into your software solutions through the API tool - this feature will undoubtedly please most developers.
Comfortable authorization. Choose convenient access methods: use your username and password or connect via the main static IP address.
Benefits and conditions for purchasing Czech proxies on Proxy-IPv4
The process of issuing and connecting proxies is fully automated.
No minimum quantity of IP addresses to purchase.
Rent from 3 days with the possibility of automatic renewal.
Technical support around the clock, seven days a week, and on holidays, with the option to remotely configure your devices via TeamViewer.
A guaranteed period of 24 hours during which you can return your funds by contacting support without any reason.
Permanent discounts up to 40% of the initial cost, which depend on the number of IPs and lease terms.
PayPal, Visa/MasterCard, WebMoney, Crypto payments, Qiwi Wallet for payment, or another convenient method by agreeing with support.