Private proxy IPv6
Proxy for Traffic arbitrage, SMM, SEO and PPC activities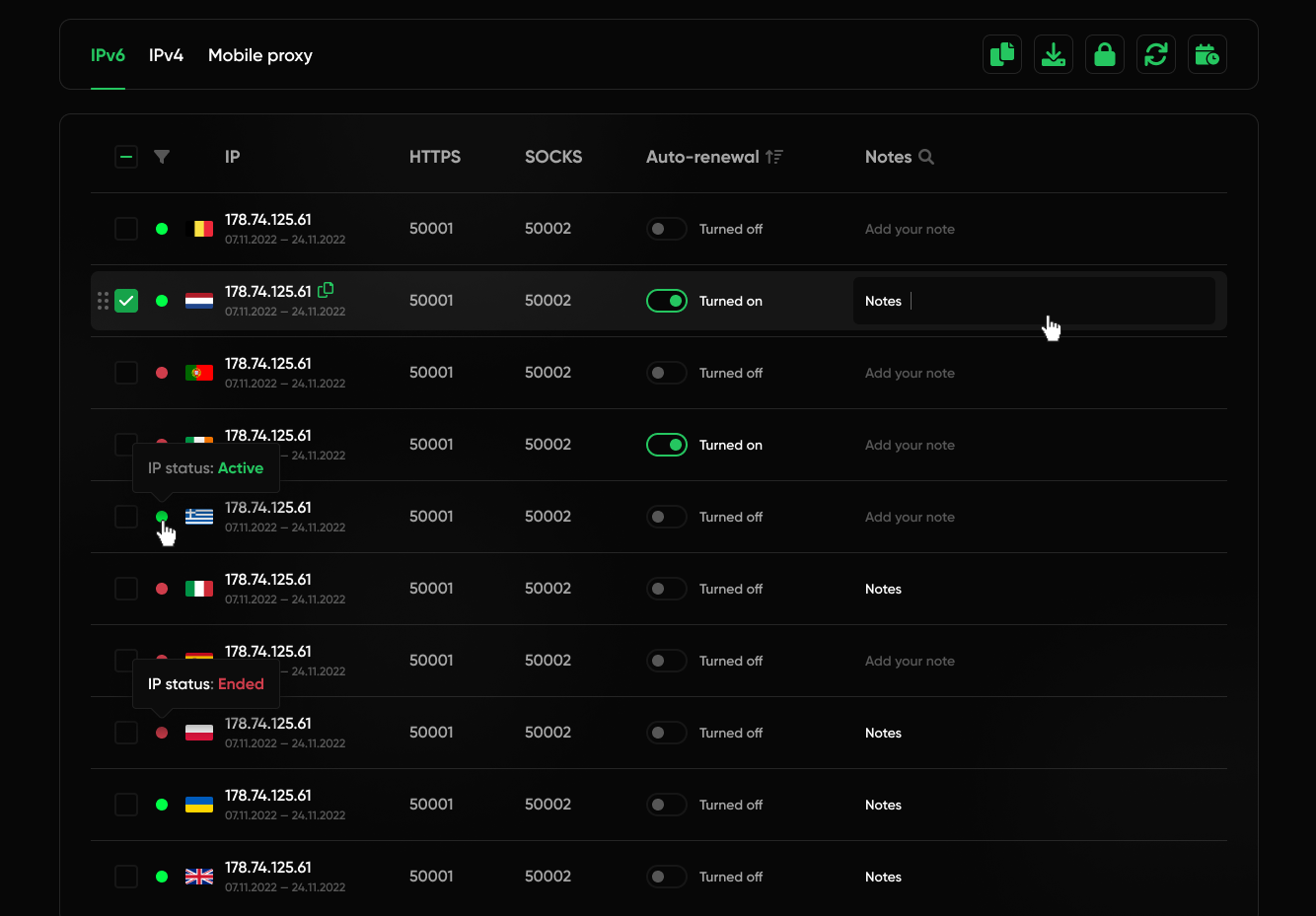 Simplified proxy management
Automation via client API
Balance and financial records
Export in various convenient formats
Commenting and categorizing proxies using folders
We answer your questions
Check out the list of frequently asked questions, you may find yours.
Ask your question
How quickly is a proxy issued?

A proxy can typically be selected and connected within a minute. However, if we need to verify that the use case doesn't violate our terms of service, the process may take longer.

Is the proxy provided exclusively for my use?

Yes, we provide proxies for individual use only.

Can IPv6 proxies be used with all websites?

IPv6 proxies are compatible only with sites that support this format. Be sure to verify that the website you wish to access supports an IPv6 proxy before placing an order.

Are there any restrictions to using an IPv6 proxy?

While there are no specific restrictions on using IPv6 proxies, all actions conducted using them must adhere to our terms of service.

What are the authorization methods for this proxy format?

You can authorize using two methods for this proxy format: either through a username and password or whitelisting the static IP address.

Is it possible to manage the service through an API?

Yes, you can fully control the integration and perform all essential actions, such as purchasing, renewing, and receiving updated data, via our API.
Our IPv6 proxies — secure, reliable, and affordable
We provide exclusively private IPv6 proxies which will help you with the implementation of your projects and tasks on the most popular social networks such as Instagram and Facebook, Google services, streaming platforms such as Netflix, etc. You can buy proxies of the USA, France, Germany, and Russia. We guarantee constantly high uptime, stability of operation, and replacement of proxies within a day from the date of purchase if an issue occurs.
In our service, you can expect round-the-clock technical support, technical assistance is provided for setting up a proxy (online chat or connection via TeamViewer). Our private IPv6 servers work correctly with all services, sites, and programs that support IPv6 protocol. Learn more about the technical characteristics and benefits that our customers receive:
Both proxy protocols support (HTTP, SOCKS5);
Personal account with flexible settings – purchase/renewal of a proxy, export of a list of addresses;
Over 150 networks in all countries and more than 200 subnets, which opens up wide opportunities for implementing projects of any complexity;
Prices – one of the most loyal pricing policies among all providers (from 0.08 USD per private proxy, discounts for quantity and lease term);
Guaranteed high speed and stable uninterrupted operation.
If you decide to buy individual IPv6 proxies from us, you can be sure that you will not have "unwanted neighbors" on your server. Every proxy is issued individually – this is the most important rule that guides our service. We provide IPv6 addresses only for white and clean projects, no brute force, spam, phishing, carding, and other illegal activities. The functionality of our service allows you to buy private IPv6 addresses simultaneously for different projects and countries in the required quantity. Flexible criteria setting allows clients to get proxies with the most suitable characteristics. We guarantee the speed up to 100mbps, uptime at the rate of 99%, and low ping. We provide an opportunity to purchase individual proxies apiece and in ready-made packages. Proxy-ipv4.com service – a convenient and practical tool that works stably with different platforms, programs, and operating systems (Windows, Android, IOS). You get the opportunity to safely manage your projects, taking into account geo-referencing up to regions and cities.