ISP proxies - static residential IPs
High-level trust IP addresses. Automate tasks seamlessly without the risk of getting blocked or facing captchas. A vast pool without speed or bandwidth limits.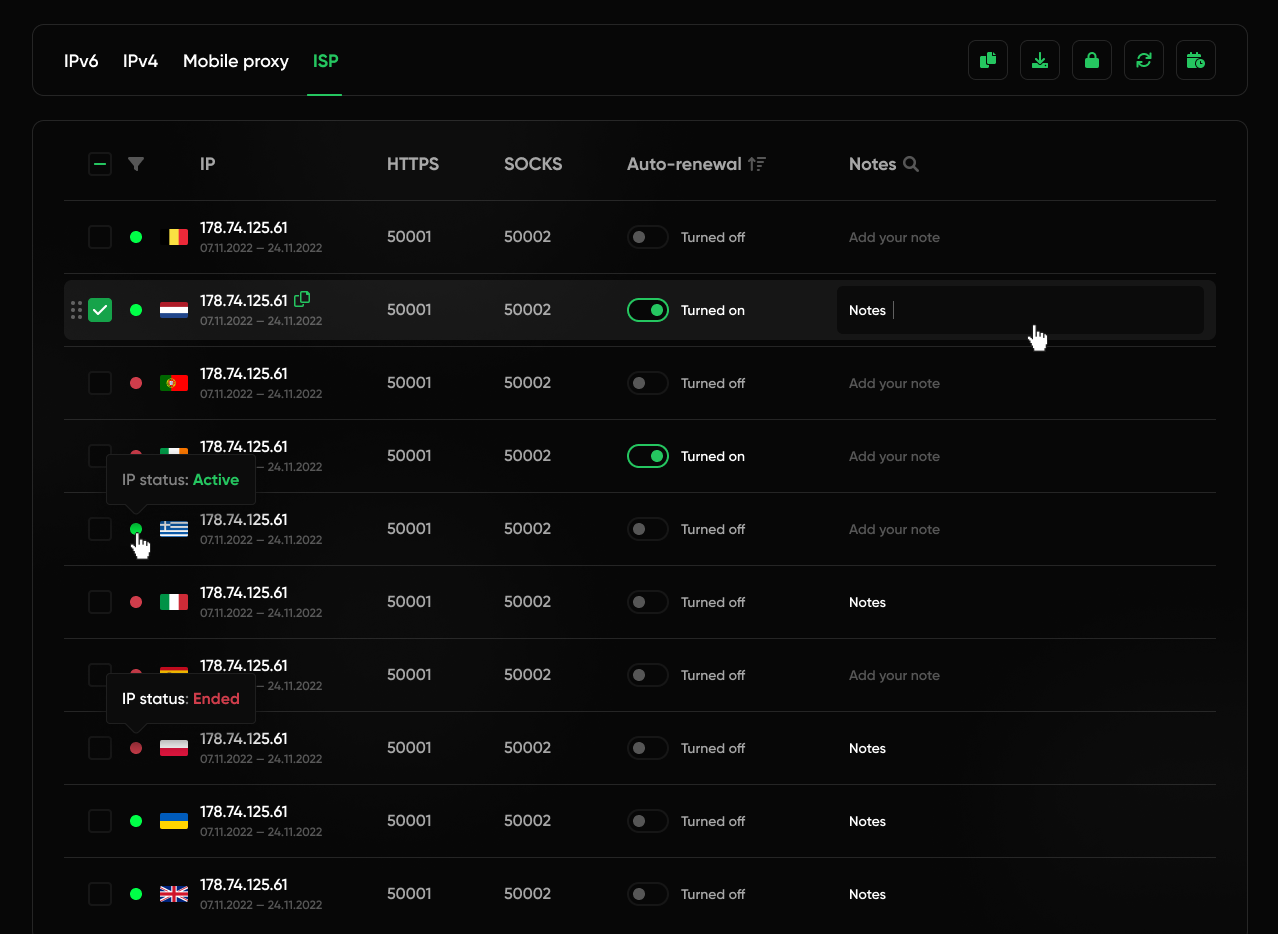 Simplified proxy management
Automation via client API
Balance and financial records
Export in various convenient formats
Commenting and categorizing proxies using folders
We answer your questions
Check out the list of frequently asked questions, you may find yours.
Ask your question
What is an ISP proxy?

ISP proxies, also known as static residential proxies, are proxies associated with real Internet service providers. They offer a higher level of trustworthiness compared to DC IPv4 proxies.

Are ISP addresses static or dynamic?

ISP proxies exclusively offer static IP addresses. Whether you renew your existing IPs or purchase new ones, you can be assured that they will remain unchanged.

What is the cost of an ISP proxy?

The pricing for ISP proxies varies significantly from standard DC IPv4 proxies. It is determined based on specific factors such as the desired location, number of IPs, and rental duration. It's worth noting that our minimum rental period is just 3 days.

Are there any limitations on ISP proxies?

ISP proxies are provided for individual use without specific limitations on speed, bandwidth, or threads. However, restrictions do apply when the proxies are used for purposes that violate our terms of service.

What sets ISP proxies apart from DC proxies?

The primary distinction lies in the significantly higher trustworthiness associated with ISP proxies when compared to datacenter proxies. This increased trust is due to the fact that ISP proxies use networks from real Internet service providers. As a result, detecting proxy usage is considerably more challenging, making it less likely to trigger blocking or other security measures during online activities.

What can ISP proxies be used for?

ISP proxies are versatile and can be used for a wide range of purposes. They are commonly used for tasks such as web scraping for price data and price comparisons, and registrations on mass-market websites like Jysk, shoe stores, and more.

Why should I use an ISP proxy?

An ISP proxy is advisable in several scenarios. It is particularly useful when your task, as well as your budget constraints, make it necessary. This type of proxy effectively solves challenges related to resources that demand exceptionally high IP address trust indicators.
The proxies we provide are genuine IP addresses sourced directly from ISPs. These proxies share the same hardware as regular ISP users, ensuring consistent uptime and reliable performance throughout the rental term. ISP proxies serve as a modern replacement for residential proxies.
Key features of our ISP proxies
High anonymity

These IP addresses are detected as authentic ISP users, resulting in greater inherent trustworthiness.

No limitations

This applies to unrestricted speed and data flow.

Consistent UPtime

Our dedicated team continually monitors the proxies. Any issues are addressed promptly to ensure uninterrupted service.

Versatile support for connection protocols

Our proxies support both HTTP/S and SOCKS5 protocols. Authorization is available via username & password or a static IP address.