Buy Proxy of Lithuania
Proxy for Traffic arbitrage, SMM, SEO and PPC activities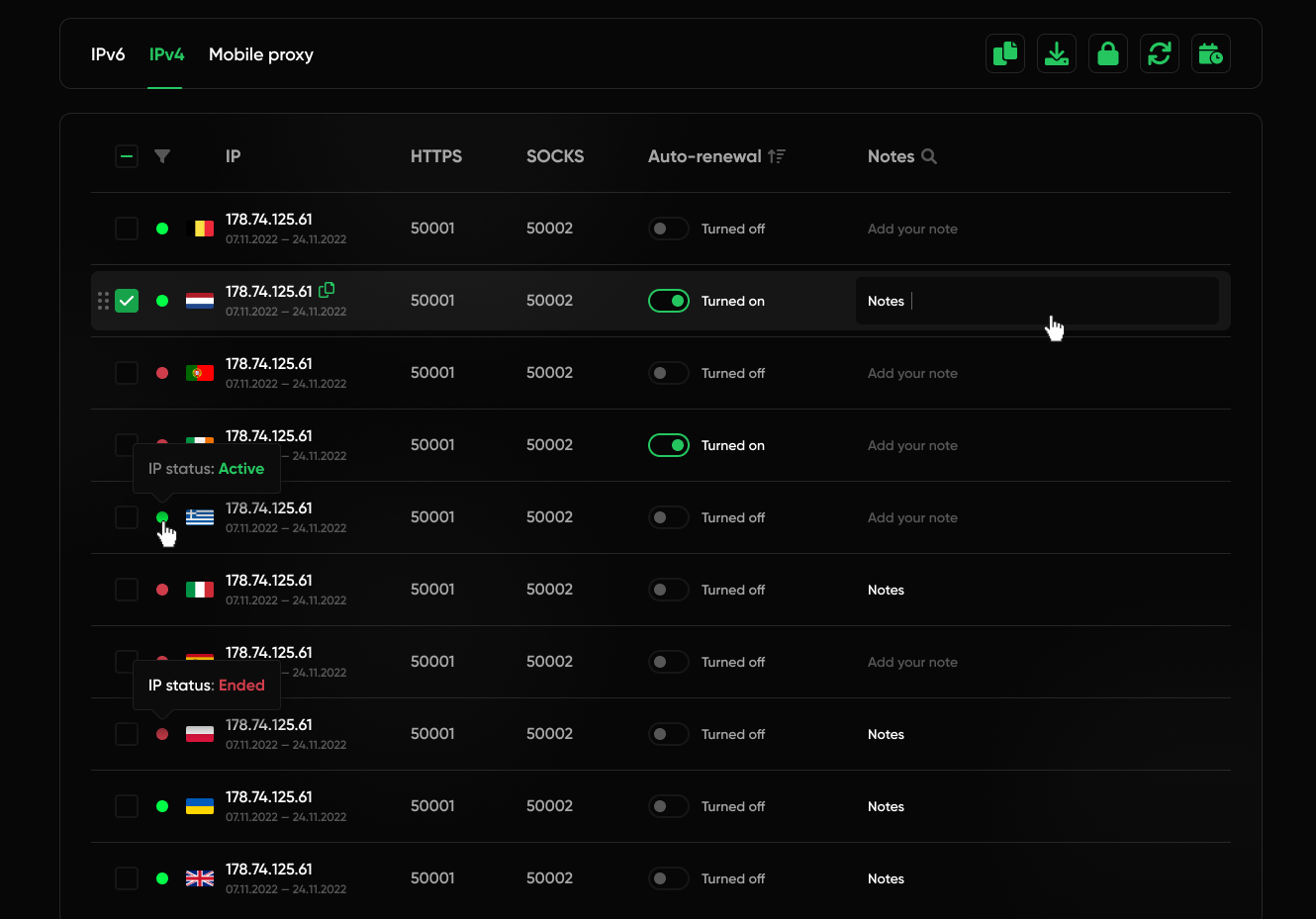 Simplified proxy management
Automation via client API
Balance and financial records
Export in various convenient formats
Commenting and categorizing proxies using folders
We answer your questions
Check out the list of frequently asked questions, you may find yours.
Ask your question
How quickly is a proxy issued?

A proxy can typically be selected and connected within a minute. However, if we need to verify that the use case doesn't violate our terms of service, the process may take longer.

Is the proxy provided exclusively for my use?

Yes, we provide proxies for individual use only.

Can I purchase a proxy of a specific city?

Before purchasing, please consult with our support team regarding the availability of the specific city you want. If the city is available, we'll take your request into account, and the order will be processed manually.

Can I receive proxies from different subnets?

Yes, one of our service's benefits is the automatic issuance of proxies with the maximum possible spread across various networks/subnets.
Cheap proxies of Lithuania for work
We bring to your attention Lithuanian proxies - an ideal option to purchase the most anonymous and secure, personal IP with a guarantee of high-speed and uninterrupted operation.
They are widely used for vigorous activity and automation of online stores, social networks, account creation, fast data scraping in multi-threaded mode, and online games.
Provided exclusively to one user.
It is also important to understand that the use of a Lithuanian proxy for spamming, phishing, brute, or other illegal activities will be a serious violation of our cooperation, which may result in an unconditional block without a refund. For us, the reputation and existence of our IPs in the lists of "clean" proxies are very important.
Features of our Lithuanian proxies
Lithuanian proxies that our service provides have a wide range of important characteristics for efficient and comfortable work, regardless of the type of activity:
Lithuania proxies are issued exclusively to one customer. During the entire rental period, we guarantee that no one except you uses the provided IPs. This approach significantly increases the level of anonymity and the lifetime of the proxies themselves.
HTTP/HTTPS/SOCKS5. Full compatibility with web browsers, proxifiers, and software that uses proxies provides simultaneous support for several modern connection protocols, greatly expanding the possibilities of applications for different purposes.
Minimum ping. Individual Lithuanian proxies are a guarantee of the absence of neighbors on the used IP addresses and paired with a high-speed connection guarantee a stable, minimal ping. This feature is very important if, for example, you use a proxy for dynamic online games or automatic access to auctions.
Speed ​​up to 1 Gbps. To use the provided equipment, we allocate communication channels with the maximum speed throughout the territory of Lithuania, taking into account its GEO features, regardless of your activity.
UpTime rate is 99%. Highly qualified specialists constantly monitor the operation of all equipment, which by the way is located in modern data centers, preventing possible failures in time.
Proxies in scatter. To increase your protection in each of the individual regions of Lithuania, and to avoid the restrictions of providers, we issue IPs, spreading them as much as possible over a large number of networks and subnets, regardless of the number specified in the order.
Unlimited. We do not have any restrictions on the bandwidth, the speed, and the number of threads. This is done for maximum comfort and efficiency, and absolutely free.
Authorization to choose from. All users are provided with two convenient ways to authenticate access. Using username and password or by main static IP.
API for developers. Create your software solutions with Lithuanian proxies using API tools. With our IPs, it is easy to test access, load your servers and resources, or exchange large amounts of information quickly.
Conditions and benefits of purchasing Lithuanian proxy on Proxy-IPv4
Full automation of ordering, payment, and issuance processes. Access to IP in your account within a few minutes from the moment of payment confirmation.
No limits for a minimum number of proxies for the order, if desired, we will provide even one IP address.
Rental periods of 3 days or more with the possibility of automatic renewal through your account.
Technical support at any convenient time, works around the clock without days off and holidays. A remote configuration service is provided on your devices through the TeamViewer program.
Guaranteed possibility of a refund within the first 24 hours from the moment of payment after contacting support without specifying reasons.
Options to save up to 40% of the original cost depending on the number of IPs and the rental term.
Convenient online payment methods: Crypto payments, Qiwi Wallet, PayPal, Visa/MasterCard, WebMoney, or any other, after agreeing with the support service.