Mobile LTE proxy
High-trust dynamic mobile proxies. Automate your tasks without the risk of getting blocked or seeing captcha.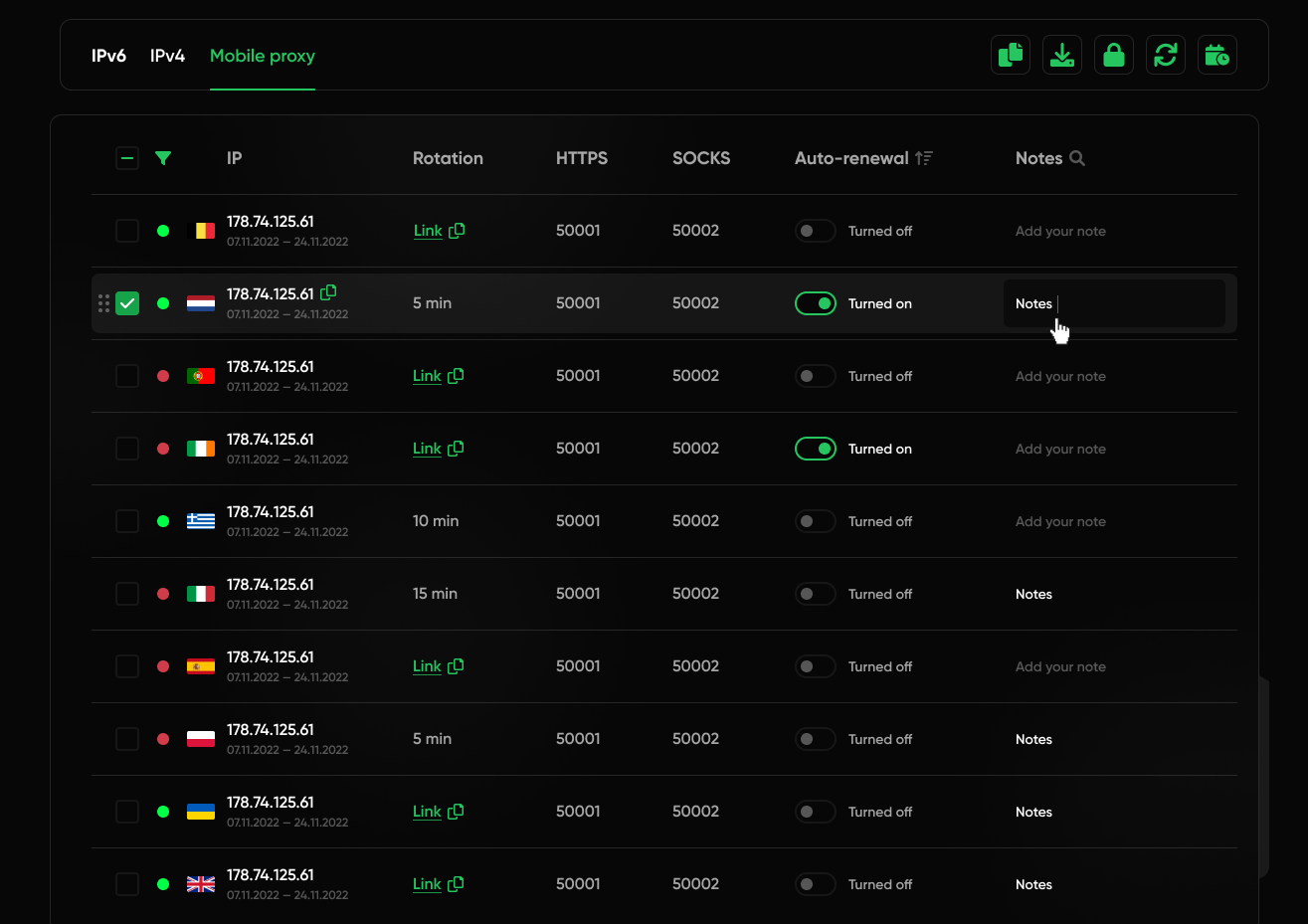 Simplified proxy management
Automation via client API
Balance and financial records
Export in various convenient formats
Commenting and categorizing proxies using folders
We answer your questions
Check out the list of frequently asked questions, you may find yours.
Ask your question
How quickly is a proxy issued?

A proxy can typically be selected and connected within a minute. However, if we need to verify that the use case doesn't violate our terms of service, the process may take longer.

Is the proxy provided exclusively for my use?

Yes, we provide proxies for individual use only.

Are mobile proxies considered static or dynamic?

Mobile proxies are dynamic. Rotations occur either by request to a specific URL or at set time intervals, such as every 5/10/30 minutes. This option can be selected at the moment of purchase.

How frequently does the IP address rotate on mobile proxies?

The IP address changes at intervals of 5/10/30 minutes, depending on the carrier you choose. This option is available during the purchase process.

Why do mobile proxies from the same location vary in price?

The price difference between mobile proxies within the same locations depends on the costs of the tariff plans offered by individual carriers.

Are there any limits on using mobile proxies?

There are no restrictions related to speed or bandwidth usage.

What speeds can I expect from mobile proxies?

Mobile proxy speeds can vary based on factors such as geolocation, carrier signal quality, and weather conditions. Generally, you can expect speeds ranging from 5 to 35 Mbps.

Is it possible to manage the service through an API?

Yes, you can fully control the integration and perform all essential actions, such as purchasing, renewing, and receiving updated data, via our API.
A mobile proxy is a proxy with the IP addresses of a real mobile ISP. Such proxies have a high-speed connection of up to 30 Mbps 4G and LTE networks. The speed may fluctuate depending on the mobile provider's network load.
The high-level privacy of mobile proxies is ensured by the constant rotation of IP addresses among mobile operator users, which makes it impossible to block or blacklist such IPs and significantly complicates the work of anti-fraud systems.
Mobile proxies - organically fit into the data streams of any sites and applications, because most users use smartphones and mobile traffic.
Our services are essentially unique, unlike our competitors, we do not charge for traffic, you use a mobile proxy for the entire rental period with absolutely unlimited traffic.
Mobile proxies, despite the expensive cost, are the most effective type of proxies
Technical specifications of mobile proxies:
dynamic change of IP address is available by two methods:
by timing, performed automatically by a set period;
by link, sending the unique request manually or with a script;
in the moment of IP changing, the proxy is unavailable for ~15 seconds;
speed is up to 30 Mbps;
support for both HTTPs and Socks5 protocols;
authorization by username/password;
customer support 24/7 in live chat will always answer, check it by yourself.
Mobile proxies, despite the expensive cost, undoubtedly are the most effective type of proxies, have successful use and productive work!